JAPANESE ADULT HOSPITALITY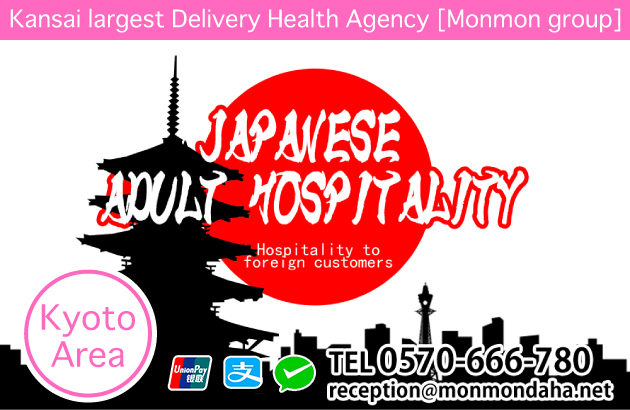 Coupon
You can get discount by telling "I saw Osaka Erotic Guide" for 1,000 yen OFF!
Website
http://japanesesexservice.com/
Region
Shin-Osaka・Gion・Kansai International Airport area
Tel
0570-666-780 / +81-570-666-780
Hours
【Weekday】9:00 am – 3:00 am(Reception time)
【FRI・SAT・Day before Holidays】9:00 am – 4:00 am(Reception time)
Price
13,000 yen / 60 min~
Credit Cards
VISA / Master Card / American Express / UnionPay / Alipay / WeChat Payment
INFORMATION
"JAPANESE ADULT HOSPITALITY" is fully equipped with an environment that allows foreigners to use most reliably in the Kansai area.

① We have established a call center dedicated to foreigners.
② We have prepared easy-to-understand "manga" for foreigners, so the flow from ordering to playing can proceed smoothly.
③ We have order system of WeChat.
④ We have settlement system of PayPal card, AliPay, WeChatPay which allows easy payment.
⑤ Before playing, our staff will accompany you with the girls for explaining the details of the playing carefully, so you can play after your consent.
⑥ "JAPANESE ADULT HOSPITALITY" operates agencies of various concepts, it's possible to guide the agency that match the services you require.

Contact
We correspond to Skype voice interpreter.
ID ↓
live: japanese_sex_service
Please add this ID.
Calls from smartphones can not be used, please one-ring call to us.
Then, we will call you back.
WeChat : TEL 080-2293-5626 ID Japanesesexservice
QQ ID : 「34843515524」「3534035672」「3233799954」
WhatsApp : 「+81 90-4756-0980」「+81 90-6280-5748」「+81 90-3676-0666」
TEL : 0570-666-780
【Around Osaka】
¥0
Osaka(Higashi-Yodogawa、Yodogawa、Nishi-Yodogawa、Asahi、Miyakojima、Kita、Fukushima、Jotoh、Tsurumi、Chuoh、Higashinari、Nishi、Naniwa)・Suita(Esaka)
¥1,000
Osaka(Tennohji、Ikuno、Abeno、Nishinari、Taisho、Minato、Konohana)
Suita(except Esaka)・Toyonaka(Shonai、Hattori)・Settsu・Moriguchi
¥2,000
Osaka(Hirano、Higashi-Sumiyoshi、Sumiyoshi、Suminoe)・Ibaraki・Toyonaka(Shonai、except Hattori)・Kadoma
¥3,000
Minoh・Ikeda・Itami・Takatsuki・Neyagawa・Hirakata・Matsubara・Higashi-Osaka・Daitoh・Yao・Kashiwara
【Around Kansai International Airport】
¥3,000
Sakai・Izumiohtsu・Takaishi・Osaka-Sayama・Izumi
¥4,000
Izumisano・Kishiwada・Kaizuka・Tondabayashi・Habikino・Fujiidera
¥5,000~
Other area
【Around Kyoto】
¥5,000~
Other area
REVIEWS