CASA BIANCA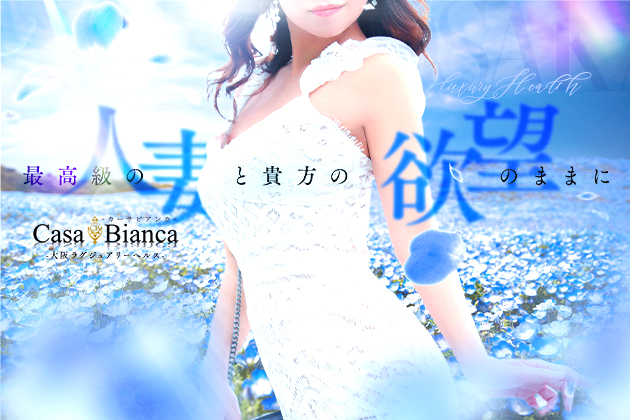 Coupon
"I saw Osaka Erotic Guide",
Free for new customers only 60min 25,000yen!!
INFORMATION
Realize hospitality seriously while having a high-level appearance.
The greed of those who satisfy each other's [pleasure] is irrespective of gender.
Standing dignified in the city, clean women with a soft and sweet fragrance…
So-called [celebrities] are also people.
'A real great woman'
It goes without saying that the high level of service such as appearance and customer service manners,
Above all, we believe that the high degree of completeness of the style that women have is important.
We proudly introduce women who will brighten your precious time.
Thanks to you, many women come to the interview every day.
We should be able to meet the needs of those who are looking for an innocent woman with little experience in customs.
In order to respond to the trust of our customers, we will always provide sincere correspondence and honest guidance.
Of course, the photos of the registered women are taken by themselves.
There is no such thing at our store, so please use it with confidence.
*For reservations and inquiries, please contact us by email, Whatsapp, form or LINE.
Also, when you make a reservation, please send us the play time, the designated woman, the hotel name, and the room number, so that we can respond smoothly.
Transportation expenses
1,000 yen
Central Osaka City (Kita Ward, Chuo Ward, Nishi Ward, Naniwa Ward, Tennoji Ward, Miyakojima Ward)
2,000 yen
Osaka City (Abeno Ward, Fukushima Ward, Nishinari Ward, Yodogawa Ward, Higashiyodogawa Ward, Asahi Ward, Joto Ward, Higashinari Ward, Ikuno Ward)
3,000 yen
Osaka City (areas other than the above)
4,000 yen
Kita Ward, Sakai City, Sakai Ward, Suita City, Ikeda City, Ibaraki City, Toyonaka City, Higashiosaka City, Moriguchi City, Kadoma City, Minoh City, Settsu City, Matsubara City, Daito City, Yao City, Amagasaki City
5,000 yen
Sakai City (other than Kita Ward and Sakai Ward), Sayama City, Kashiwara City, Fujiidera City, Takatsuki City, Hirakata City, Neyagawa City, Shijonawate City, Katano City, Habikino City, Takaishi City, Takarazuka City, Nishinomiya City, Itami City, Tondabayashi City, Izumi City, Izumisano City, Kishiwada City, Kaizuka City, Kawachinagano City, Izumiotsu City
Consultation area
Kobe City, near Kyoto Minami Interchange, Wakayama City, Nara City (varies depending on location)