JAPANESE ADULT HOSPITALITY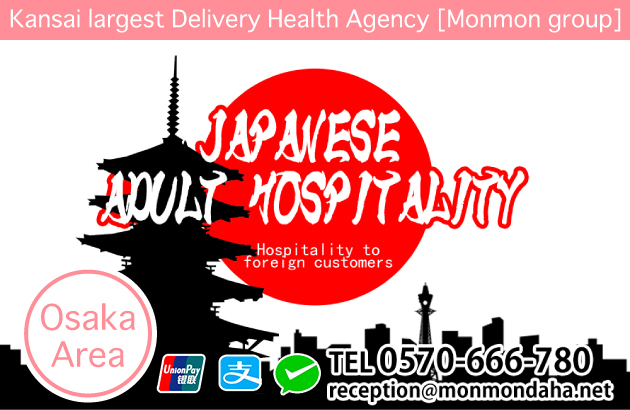 Coupon
You can get discount by telling "I saw Osaka Erotic Guide" for 1,000 yen OFF!
INFORMATION
"JAPANESE ADULT HOSPITALITY" is fully equipped with an environment that allows foreigners to use most reliably in the Kansai area.

① We have established a call center dedicated to foreigners.
② We have prepared easy-to-understand "manga" for foreigners, so the flow from ordering to playing can proceed smoothly.
③ We have order system of WeChat.
④ We have settlement system of PayPal card, AliPay, WeChatPay which allows easy payment.
⑤ Before playing, our staff will accompany you with the girls for explaining the details of the playing carefully, so you can play after your consent.
⑥ "JAPANESE ADULT HOSPITALITY" operates agencies of various concepts, it's possible to guide the agency that match the services you require.

Cartoon Description
http://japanesesexservice.com/sp/english_comic.html

Contact
We correspond to Skype voice interpreter.
ID ↓
live: japanese_sex_service
Please add this ID.
Calls from smartphones can not be used, please one-ring call to us.
Then, we will call you back.
WeChat : TEL 080-2293-5626 ID Japanesesexservice
QQ ID : 「34843515524」「3534035672」「3233799954」
WhatsApp : 「+81 90-4756-0980」「+81 90-6280-5748」「+81 90-3676-0666」
TEL : 0570-666-780
【Around Osaka】
¥0
Osaka(Higashi-Yodogawa、Yodogawa、Nishi-Yodogawa、Asahi、Miyakojima、Kita、Fukushima、Jotoh、Tsurumi、Chuoh、Higashinari、Nishi、Naniwa)・Suita(Esaka)
¥1,000
Osaka(Tennohji、Ikuno、Abeno、Nishinari、Taisho、Minato、Konohana)
Suita(except Esaka)・Toyonaka(Shonai、Hattori)・Settsu・Moriguchi
¥2,000
Osaka(Hirano、Higashi-Sumiyoshi、Sumiyoshi、Suminoe)・Ibaraki・Toyonaka(Shonai、except Hattori)・Kadoma
¥3,000
Minoh・Ikeda・Itami・Takatsuki・Neyagawa・Hirakata・Matsubara・Higashi-Osaka・Daitoh・Yao・Kashiwara
【Around Kansai International Airport】
¥3,000
Sakai・Izumiohtsu・Takaishi・Osaka-Sayama・Izumi
¥4,000
Izumisano・Kishiwada・Kaizuka・Tondabayashi・Habikino・Fujiidera
¥5,000~
Other area
【Around Kyoto】
¥5,000~
Other area
REVIEWS