Mijyuku Wakaoku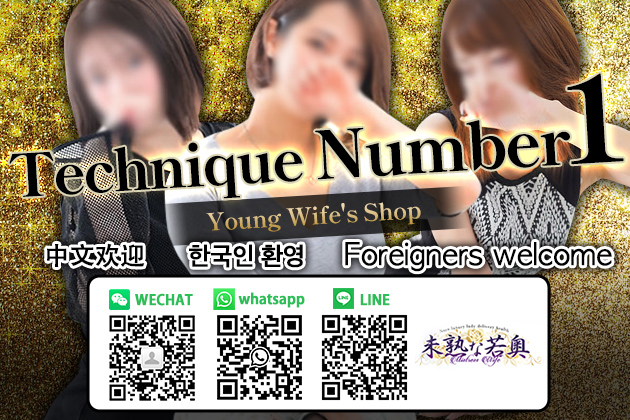 Coupon
Mention about「Osaka Erotic Guide」
5,500 yen discount for all courses for those who can speak a minimum amount of Japanese
INFORMATION
International customers are welcome.
Please feel free to contact us.
We are preparing a young and beautiful married woman as a technician for overseas.
Kansai's top-level shop has come to Osaka.
Please enjoy the technique that you can not taste at other stores.
Our store is an excellent store with no lies.
Please use it with confidence.
Please feel free to call us as our friendly staff will be happy to assist you.
Please feel free to contact us as we can also visit areas in Osaka, Kyoto and Nara.
Price [Those who can speak a little Japanese]
90 minutes 37,400 yen → 31,900 yen
120 minutes 45,100 yen → 39,600 yen
150 minutes 52,800 yen → 47,300 yen
180 minutes 60,500 yen → 55,500 yen
10% tax included
Admission fee free
Panel nomination fee: 1,100 yen
Separate hotel fee
Transportation expenses
Free in Osaka city, southeastern part of Osaka prefecture, Nara prefecture
Kyoto city 3,300 yen
Please inquire about other areas.
Click here for credit card payment
↓
https://www.deriheru-fuzoku.com/herodb/heroskin.cgi?table=link&skin=skin2.html&recpoint=0&search=ZZZf136
[Our shop terms of use]
The following customers cannot use this service.
* Legal action may be taken when violations are discovered.
*Those under the age of 18 (not high school students)
*Persons related to organized crime groups and anti-social forces
*Those who act as scouts
* Production act, production coercion, etc. (including remarks)
*Persons with venereal diseases or those at risk
*Those who engage in voyeurism, theft, or other criminal acts
* Those who do things that companions dislike
*Places where showers cannot be used
*Other times when our shop recognizes that it is inappropriate
Please note that refunds will not be given in the event of cancellation due to the above reasons.